The exterior of company cars should not be underestimated. It's important for their advertising message to impress the audience for the short period of time in which the cars have normally been seen. This way the focus is on the brand and the company. Vehicle graphics promote the business 24/7 all over the country and outside. That's precisely why companies are relying on an attractive and fresh presentation of their products or services.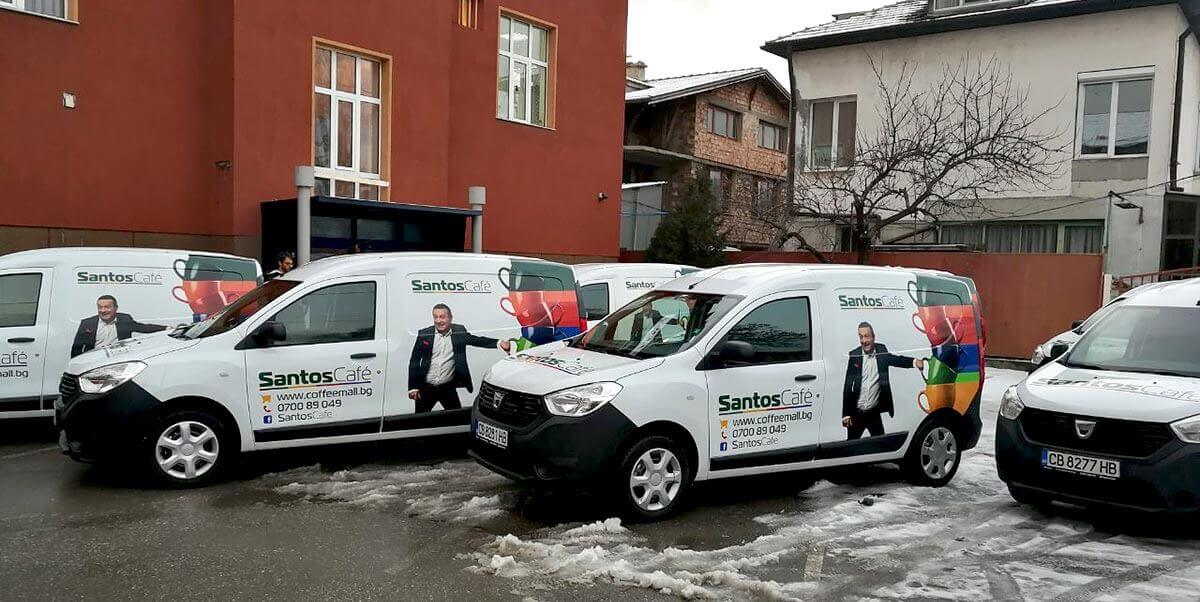 Santos Cafe also chose an interesting presentation of their company cars. The established Bulgarian coffee brand has trusted the experience and good skills of the advertising agency Aleks Design Group for car branding. They performed the impressive design of the cars absolutely professional – with special attention to details.
The face of the actor Dimitar Ratchkov shines on Santos Cafe advertising cars
Undoubtedly, th cheerful and funny vehicle graphics with Dimitar Rachkov attract attention to the cars and coffee brand. For this responsible project, Alex Design Group chose the best quality wide format graphics film on the market – 3M Print Wrap IJ180mC-10 white gloss. It provides perfect ink coverage, quick and easy installation and high durability. The improved Controlac™ and Comply™ adhesive technologies, accelerate the work of film installers and make possible even compound car details to be wrapped.
On the vehicle graphics is applied 3M Scotchcal Overlaminate 8518G in order to ensure greater durability. The combination of 3M materials provides an additional guarantee of quality and compatibility – 3M MCS ™ Warranty. Both customers and advertising agency can be sure they receive the best on-vehicle advertising.
The advertising agency preferred to use electrocut film 3M Scotchcal 50 for all car letterings. The polymeric film 3M provides many different colors to choose, easy installation and good durability.
3M Print Wrap IJ180mC series provide a perfect vision of the cars
The advantages of 3M cast film for digital printing gained the confidence of Aleks Design Group. Thanks to its bright and contrast colors and the Rachkov's humorous smile, this advertisement fully changed the Santos Cafe automobiles. The fresh design of the company cars was realized of high quality sign materials that guarantee perfect looking and high durability.
3M Print Wrap IJ180mC printable wrap films for cars has an excellent performance and durability which makes the film preferred from installers.