For more than a century 3M have established themselves as market leaders in numerous industrial sectors. As pioneers in the advertising graphics, all of their films are designed with pressure-sensitive, dry, acrylic adhesive. To ease the process of wrapping and to ensure spotless results during application, 3M developed the Comply™ and Controltac™ technologies. What are they?
Comply™ – the innovative technology for bubble-free applications
Special adhesive layer of the film is in the basis of the innovative Comply™ technology. This layer is made from multiple air release channels that form a grid that resemblance " waffle structure". The air release channels allow the air to get extracted and not get trapped between the film and the surface. To release the air you will have to apply a little pressure on the bubble. During application you will notice slight " waffle effect" that is created by the structure of the adhesive. Even though, seen as an effect from customers, it was a defect for the 3M engineers, and in 2017 they released the Micro Comply™ technology.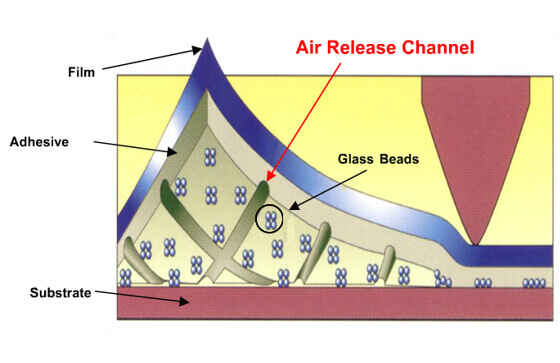 In it the adhesive layer is filled with much smaller air release micro channels that leave absolutely no traces on the applied surfaces.
All new 3М car wrap films are designed with the Micro Comply™.
Controltac™ – system for easy re-positioning of the film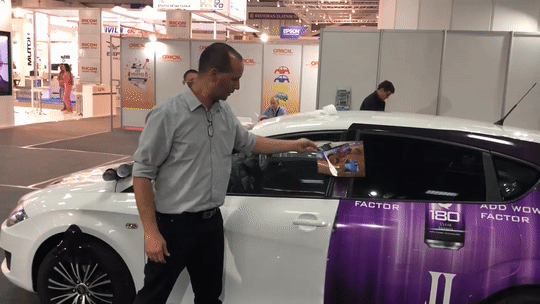 Responsible and detailed projects require advanced technologies that allow fast and secure applications. The 3M Controltac™ minimizes the initial contact area of the adhesive and allows the applicator to re-position the graphic during application. That is created thanks to the microreplicated spheres across the entire adhesive layer. They do not allow the film to bond when in impact with the surface. When you are absolutely sure of the position of the film you can apply it with the help of a squeegee. Then the microreplicated spheres activate the adhesive.
The system ensures the application process and helps the applicator to place the needed corrections without damaging the structure and the surface of the film.
All 3M car wrap film series are designed with the Controltac™ and Comply™. Thanks to them we can wrap wide format and complex graphics on different types of vehicles.