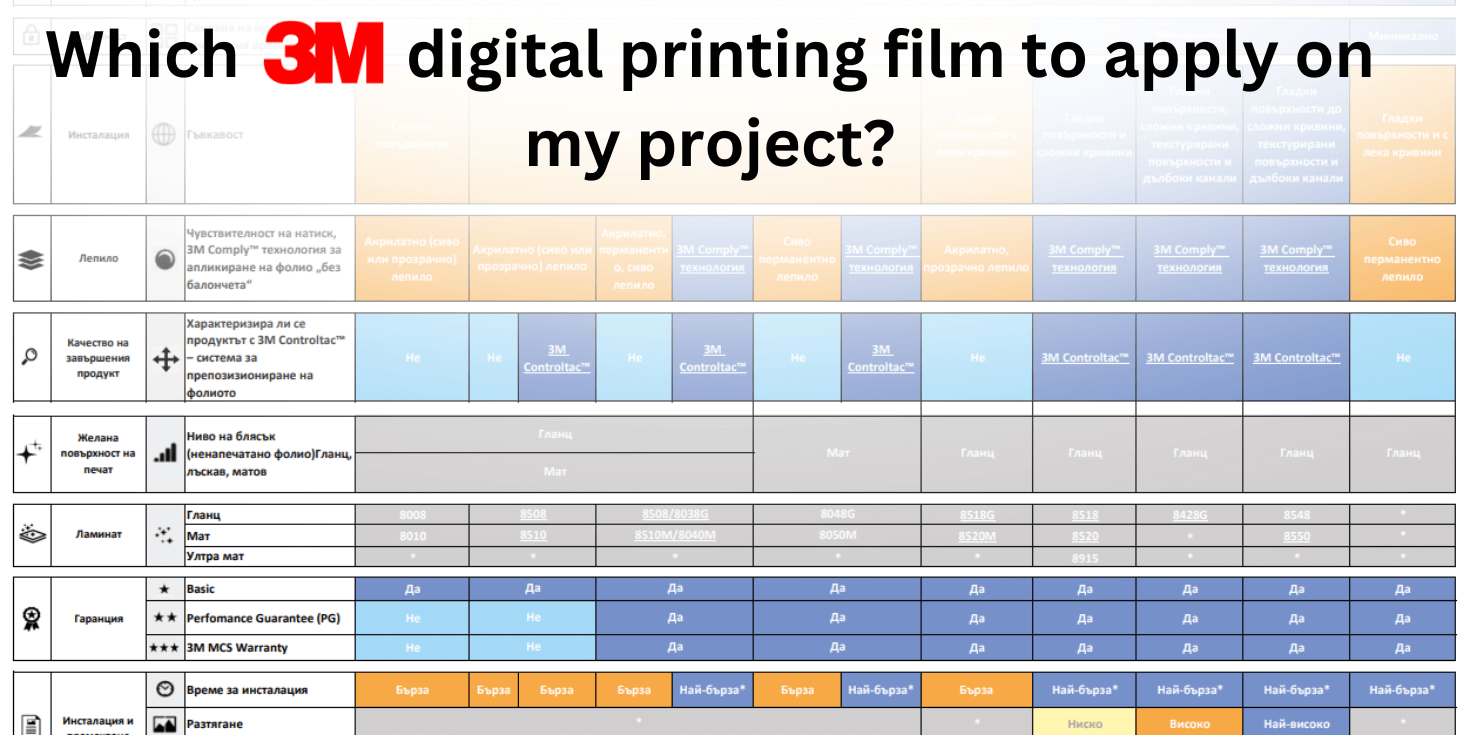 Quality advertising materials for noticeable advert
We know that behind every project – and every customer – there is something different. Our wide portfolio of products for advertising graphic includes a wide variety of high-quality films, finishes, and technologies for gluing digital print, which is designed like that, that to exceed even the highest requirements for quality and longevity. Using quality materials for advertising graphics can be extremely important for your business. The high-quality film for print, finishes, and technologies for bonding digital print stays at the core of what kind of impression you will live in your clients and visitors.
3M™ Comply™ technology: 

through the specially developed adhesive layer

of the film, which is combined from

thousands of miniature channels

form a special air grille

.

It is through these miniature canals

that allow the air,

which is sometimes held between

the film and on the applied surface with a bubble shape,

to be removed only by pressure on the surface

of the advertising element.
3M™ Controltac™ technology: is a self-adhesive system, which is again applied by pressure. It limits the first contact of the film with the surface, which allows it's easy repositioning.

This is done through millions of microspheres

,

scattered on the surface

of the technology for adhesive. Thanks to them, the film doesn't get glued in and it allows easy repositioning on the right place.
3M™ MCS™ Warranty: This warranty covers the finished advertising, which uses products created and tested for optimal compatibility, performance, and longevity of the finished object. This is the most widely applied warranty for advertising objects in the world.

Film for digital print from 3M grouped:
Monomeric film for short-term, inside and outside with promotional. Short-term cycle of life for outside and inside locations.
Premium polymer , suitable for many applications. Excellent printing and assembly techniques, suitable for flat basis and little curves.
Same as IJ40, with implemented systems Comply ™ and Controltac ™ for fast, easy and dry application (without water). Used for making graphics for flat surfaces on cars, buses and trucks.
3M IJ48
Film without PVC for using in multiple situations
Same as IJ48 with added technologies Comply™ and Controltac™ for easy, fast and clean installation.
Cast, self-adhesive film, optically clear film, designed for glass surface applications with simple curves. For high-quality graphics and long-term duration – indoor and outdoor.
A high-class cast film. Standard in the business for complete branding of vehicles. Implemented with technologies Controltac™ and Comply™ for an easy, fast, and clean installation without water.
3M Print Wrap Film IJ280 is the best film in its category for wrapping vehicles with graphics. The cast film covers even the deepest and most complex 3D curves. It has Comply and Controltac technology for high-quality, fast installation.
NOT PVC, with technologies Controltac™ and Comply™. Thanks to its polyurethane core it can be stretched to 150% without having ANY PHYSICAL MEMORY. Promised quality during installation even on the most complicated 3D curves of automobiles, buses and trucks
Premium cast film with permanent pressure sensitive adhesive. Suitable for labels, emblems, decorative and manufacturer identification graphics, warning and safety stickers, labels for construction machinery, oil rigs, heavy machinery, and other equipment.