SloanLED is an US company founded more than half a century ago in Ventura, California. Back in 1968, it launched the production of LED backlights for the Boeing navigation systems. Over the years, the company has established itself in the world of LED technology as a market and innovation leader. It specializes in outdoor advertising, canopy, street and industrial lighting. SloanLED produces LED lighting for gas stations, industrial premises and open spaces.
The company offers a solutions for complete illumination of oil stations canopy, parking areas and store lighting. The company produces the red stripes for all Shell stations (Red bar of Shell), and for BP (LEDstripe for BP) – the green stripe lighting of BP.
SloanLED lamps are specified for illumination for canopies, parking lots and shops of Shell, OMV, EKO, BP and other petrol companies. Moreover, in most of the sites, in the above mentioned chains, the interior lights and the specialize LED bars – SloanLED Cold Deck – are used to illuminate shop refrigerators.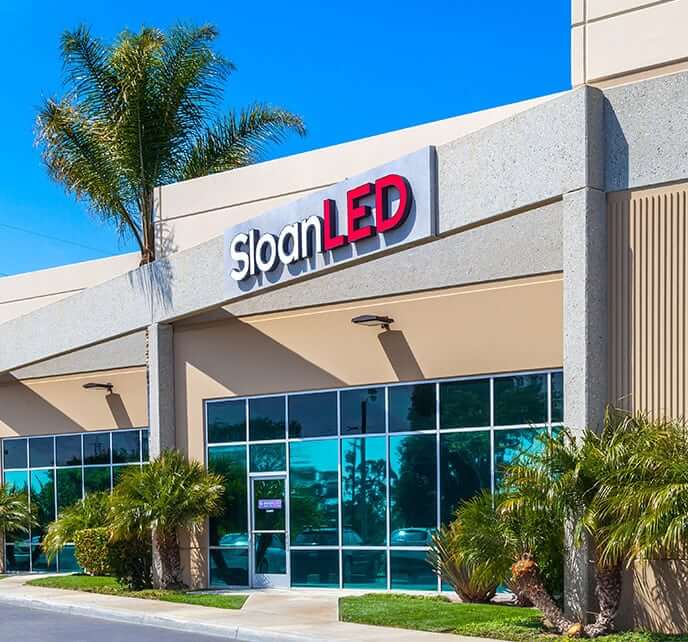 Partners Ltd. is the official distributor of SloanLED for Bulgaria, Serbia and Montenegro. Our clients are OMV Bulgaria, Eko Bulgaria, Eko Montenegro, LLS Petroleum, Admiral Oil, franchise sites of Petrol and others.
Briefly about the most wanted LED gas station lighting
SloanLED PDL3 Modus is a lighting fixture with unique light output and a 10-year warranty. These LED lights are designed to illuminate beneath gas station roofing, sheds, halls, warehouses and all kinds of industrial premises with a height of 4 to 6 meters.
These are the only LED lights in the world with a unique patented design. A fully passive cooling (without fans) maintains a LED-friendly temperature even on the hottest summer days. It is extremely thin and light compared to all competing products. This significantly reduces the time and cost of installation (by 1 person) compared to significantly heavier alternative models. Its design allows the easy and quick replacement of the already installed lighting fixtures.
64 sq.m. perfectly illuminated with a single LED light
Typically, one SloanLED PDL Modus LED light, mounted at a height of 450-460cm from the asphalt, illuminates a perfect spot of 8×8 metres. The high quality LED chips, unique casing and manufacturing technology give one of the highest light outputs per watt unit. When setting the LED light to 125W, it reaches 15200Lm of light output, which is 125Lm/W. Because of that, when replacing old metal-halide lamps with SloanLED lights, they are fitted with 30% to 50% less lighting fixtures, and the power of illumination of the gas station is more than double.
Inconceivable Warranty for LED lights
10-year full warranty and 100,000 (L70) hours of life expectancy mean that even after 23 years (when operated 8 hours/day), these LED lights will illuminate no less than 70% of their original power. LED lighting fixture ensures maximum illumination. It is combined with exceptional reliability and long-lasting (10 years) guaranteed equal power of light.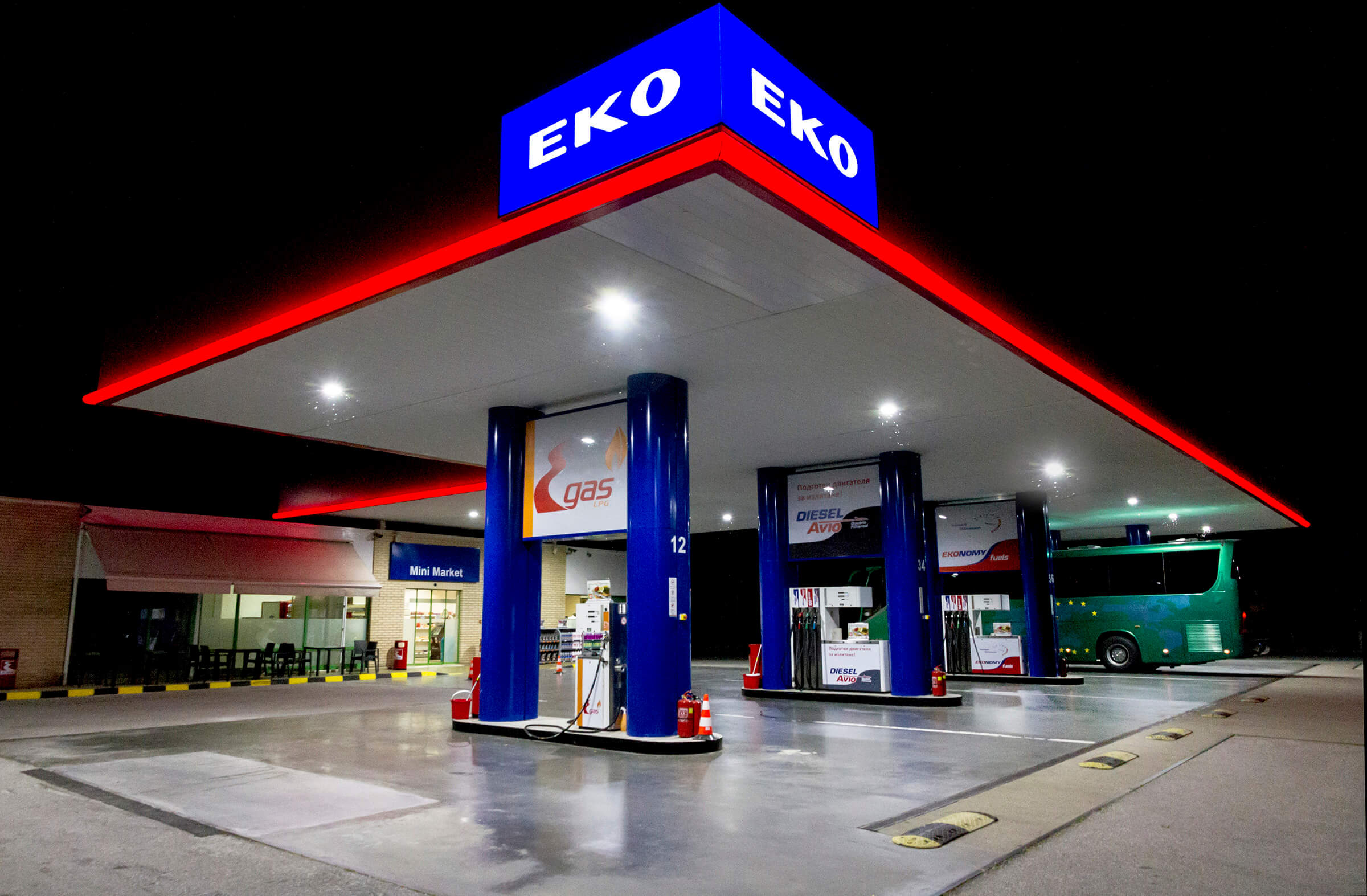 The heat kills the LED lights – but not ours!
The power supply to the SloanLED PDL3 Modus LED light is exported outside the casing. This gives an exceptional advantage in two directions. On the one hand, the driver does not heat up the diodes, and on the other, the power supply itself appears as a surge protector for electric shocks and overvoltages. In these cases, only the power supply will need to be replaced, not the entire lamp. This saves a lot of time and money. SloanLED PDL3 Modus can work at the highest ambient temperatures in the world – up to + 60°C.
Depending on the power supply, you can select lamps with the desired power consumption. The 75W power supply can be set to 36W, 51W or 66W, and with a 150W driver, the power of this LED lamp can be set to 86W, 105W and 125W.
Excellent results in street lighting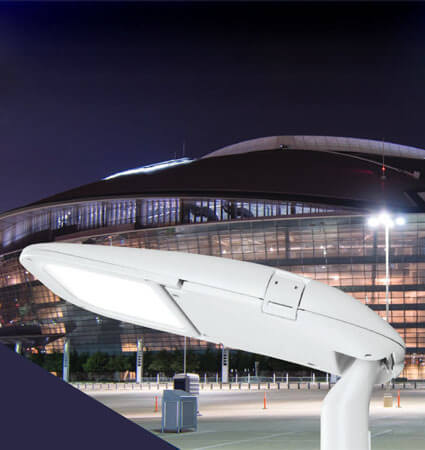 SloanLED also offers LED street-lighting solutions at gas stations. The SloanLED PML Paladin model has three different casings, each of which has several light intensity modes.
The smallest casing is designed for posts with a height of 3-5 meters and gives a possible power of 30W and 40W. The middle one is suitable for posts with a height of 4-8 meters and has a possible power of 60W, 90W. The largest casing is for very high posts or places that need very strong lighting. In this LED light 120W and 160W are possible, as well as the unattainable 200W.
These LED lights also have a 10-year full warranty.
Due to the large selection, sometimes customers have difficulty choosing the best LED light for their needs. In most cases SloanLED PML Paladin 60W is the right choice. The price / illumination ratio makes it our most popular SloanLED light for posts.
Clear, predictable and guaranteed results
One of the most complicated issues in illumination a gas station is how to position the LED lights. As part of our customer care, SloanLED offers a free service for a preliminary project for illumination of the covered and open areas of the gas station.
Whether it's about changing the existing lighting or installing a new one. Just contact us to get an offer for the best solution.
In many cases, with very few LED lights that are properly located at the gas station, we are able to make many competitive offers. At the same time, customers receive the best – perfect illumination and dozens of years of trouble-free work.
And more quality solutions for gas stations
In 2004 SloanLED presented its first patent for LED stripes, also known as LED neon – LedStripe®. They are specially designed for the lighting banding of buildings. The low 24W operating voltage prevents the risk of sparks, which are common and are the cause of fires in neon installations. They come with a 5-year warranty, IP68 humidity and water resistance and all necessary fire and safety certificates. LedStripe® is the ideal solution replacing the expensive and dangerous open neon.