The highly competitive advertising field places new standards for the manufacturers. The clients are looking not only for more impressive introduction of their businesses, but also for quality installations.
Our partners from advertising agency Contrast 5000, Burgas, always play safe when it comes to choosing advertising materials. They are highly experienced and know how important the client is. For their responsible projects they rely on practical and effective solutions for outdoor advertising. Because of that, Contrast 5000 preferred aluminium systems – vinyl system for the new ZIA Bakery.
ZIA Bakery established their presence with a stunning outdoor installation
ZIA Bakery wishes to not only impress with the good taste of their pastries, but also with attractive illuminating signs. For this project advertising agency Contrast 5000 used aluminium single-sided sign systems with 142mm thickness.
The systems are specially designed for vinyl and allow you to create perfectly smooth surface of the signs. They are light and comfortable to work with, which makes the creation of advertising signs much easier and faster. Another advantage is their flexibility that allows you to create attractive designs such as the one of the bakery.
Thanks to the high quality aluminium systems and the perfect work by the advertising agency, ZIA Bakery in Côte d'Azur by the Sea Garden, received creative advertising signs.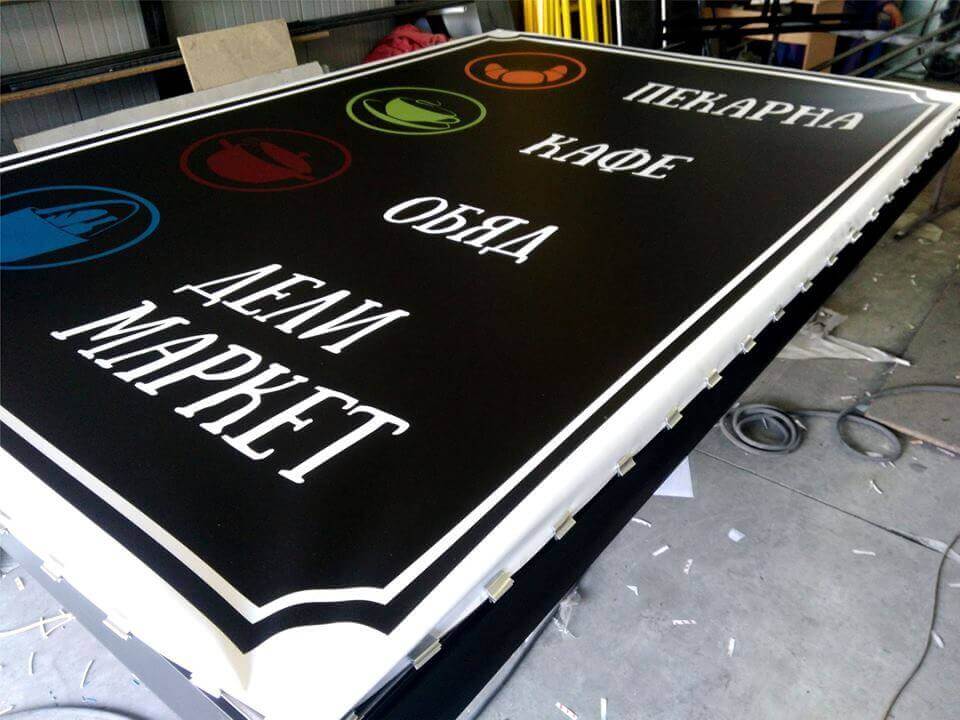 Advertising agency Contrast 5000
I am extremely pleased by the aluminium profiles! They are easy and fast to work with, they save time during the mounting of the advertising installations. Excellent work by the LED modules: wide viewing angle, bright illumination, and a guarantee for high durability.
Long-term aluminium system for signs
The profiles were powder coated for even more elegant look. Combined with latex printing and applied with translucent film on which you could see the black&white graphic. The white elements and the small colorful logos stand out on the black background, especially when the sign is illuminated.
From the advertising agency ensured the bright illumination with the Korean G.O.Q. LED modules constructed with Samsung chip with 180° viewing angle – G.O.Q. 3 LED 2835 Spectrum White 10000K. That way the sign illuminates bright, ensuring durability and effectiveness. For more safety they ensured the installation with Mean Well power supplies.
We congratulate advertising agency Contrast 5000 for the spotless work and the trust that they had in our products. With the choice of high quality materials, there is no doubt, that ZIA Bakery will welcome clients for many years ahead.