Vinyl types – technology and quality
We often feel confused when we are about to choose between monomeric or polymeric products. Cast vinyl is known as better than others, but the price is higher. Which self-adhesive vinyl is more suitable for our needs?
The answer depends on the surface we have to cover and the expected vinyl durability.
Most types of vinyl could be separated by their manufacture technology – calandering or cast, and their molecular structure – monomeric or polymeric.
1. Monomeric or Polymeric vinyl?
Self-adhesive vinyl has three layers – Polyvinyl chloride (PVC) film, an adhesive layer, and silicone release liner. The polyvinyl chloride (PVC) can be monomeric or polymeric. Its thickness may vary from 50 to 200 microns. Over the years had been created a non-PVC vinyl.
1.1 What are monomer and polymer?
A monomer comes from "mono"- one and "mer" – part. A molecule that can react together with other monomer molecules to form a large polymer chain. Polymers are large chain molecules composed of multiples of simpler units monomers. In conclusion, polymers are more complexed monomer molecules. The word polymer comes from "poly" – many and "mer" – part. The polymer could be naturally occurring or synthetic. Because polymers are composed of monomers, they are strong, more durable, and more reliable to operate.
1.2 Monomeric PVC vinyl
Monomeric vinyl uses the plasticizers with low molecule size. Monomeric films are made of short-chain plasticizers that make the product not resistant to heating, cooling, and brittle. You can recognize the old monomeric vinyl by the typical PVC layer cracks, due to its weak monomeric chains. After stretching monomeric vinyl usually broke or shrink. This type of vinyl is unbefitting for car wrapping unless is for short-term promotional purposes.
1.3 Polymeric PVC vinyl
Polymeric vinyl is made of long-chain plasticizers. That is why it is more stable, resistant to temperature changes, and has more stretching skills. It is preferable for interior, and exterior usage, and its durability is longer.
1.4 Polyester vinyl
All the sun-protecting, impact-resistant, and decorative glass vinyl are created of polyester. One of the best 3M high-technology series is Sun Control Film Prestige. There are over 200 nanolayers in 38 microns thickness.
1.5 Non-PVC vinyl
Besides PVC, there is also polyurethane vinyl. 3M created series  3М Envision Print Film 48C and 3М Envision Print Film 480 – non-PVC vinyl. PVC is one of the most toxic plastics that cause environmental pollution. The number of countries and companies which banned the usage of PVC rise numerously. Also, the European Parliament has voted to fully ban the PVC in the next 10 years.
The biggest advantage of non-PVC vinyl is fully restrained shrinkage. 3M series 480 allows easy stretching up to 180% and this is something that even 3M's flagman cast vinyl IJ180mC cannot do. Countries increasingly prefer non-PVC vinyl for car wrapping due to two big advantages. The easy application and the fact that is fully Eco-friendly – suitable for any kind of green company.
1.6 Masterbatches (additive)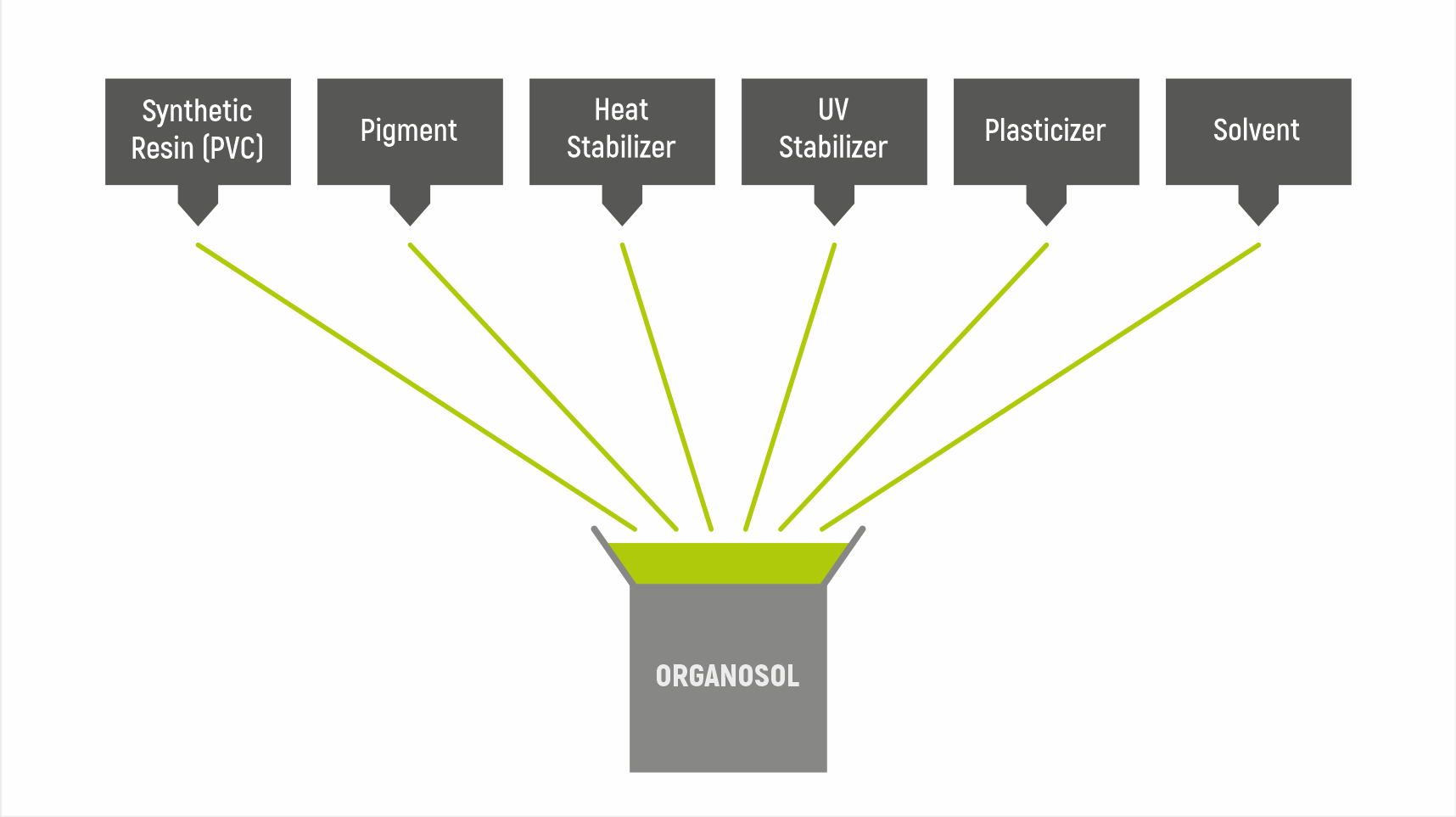 All of the PVC products consist of additives, they are called masterbatches. They improve the product's UV absorbance, flexibility, durability, thermal resistance and make them antimicrobial.
Masterbatches can be also a solid additive for plastic used for coloring. The main part of calculating the whole price for the self-adhesive PVC film is the fact PVC is very cheap itself, but the added masterbatches can add up to 50% to the price. They improve the quality and extend durability.
3M vinyl technology uses the highest class masterbatches additive. The color quality is one of the most recognizable differences. If you compare the 3M color palette with some others, you would notice that 3M's colors pigment is way more clear and bright.
Furthermore, 3M pays special attention to the PVC's UV stabilizers and plasticizes. Most of the professionals in this community said that 3M's vinyl is much better, compared to the same class vinyl but from different manufacturers.
2. Calandered or Cast vinyl?
To create a PVC vinyl, there are two technologies – calandering and cast
2.1 Monomers and Polymers are calandering.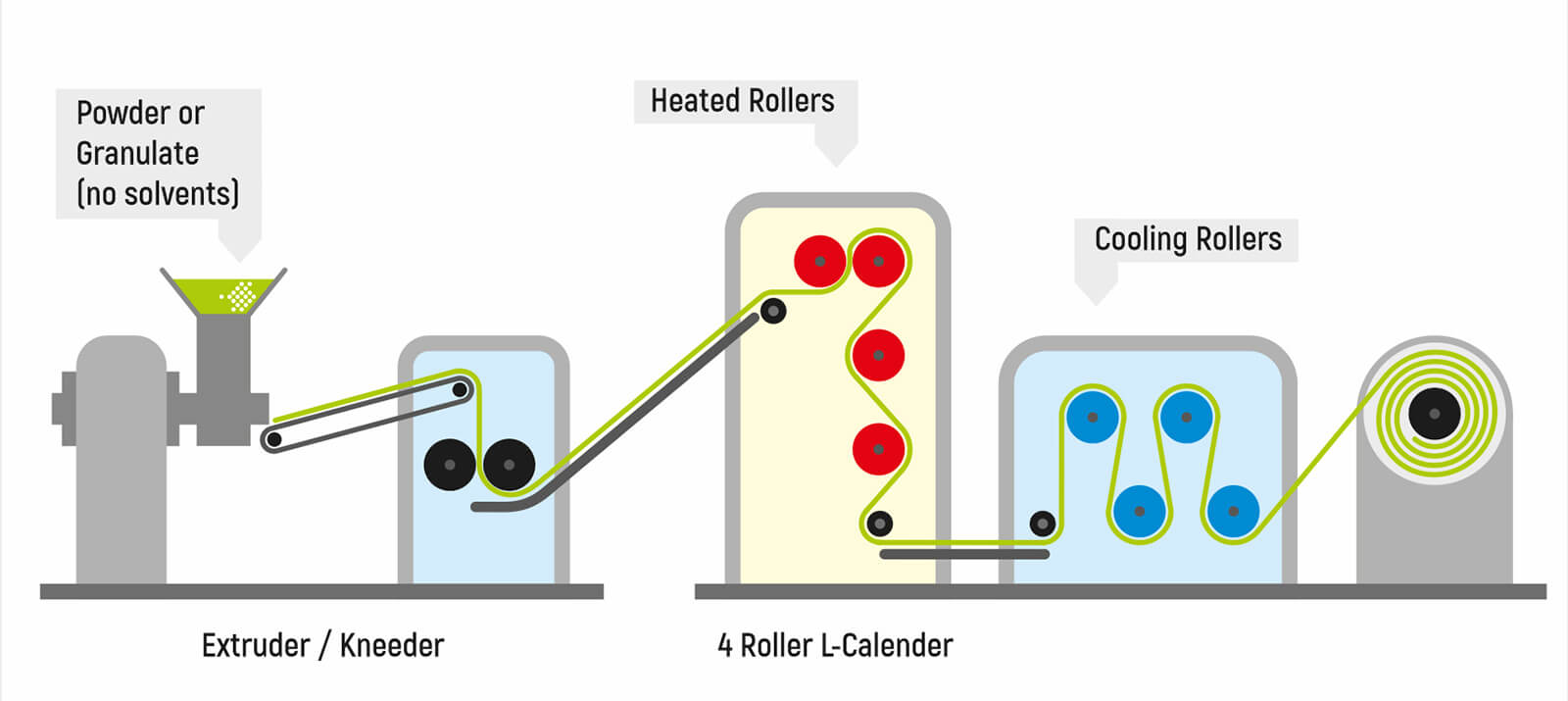 What does that mean? Calandering is a fast and cheap process. The PVC material has been melted and pressed with a series of rollers to form a sheet with the desired shape. Afterward, it cools and goes for applying the adhesive layer and the silicone release liner.
2.1.1 Disadvantage – The Shrinkage
When pressing the vinyl, rolls create internal tension. This tension is also known as a shrinkage or "the pizza effect". Just as the pressed pizza dough begins to shrink when is leftover and tries to regain the shape from which it was pressed, so the vinyl tries to regain the original size from which it was pulled.
2.1.2 Applications of calendered vinyl
The monomeric or polymer vinyl is mainly suitable for creating ads and decorative applications on flat surfaces – glass partitions, signs, and others. Calendered monomers are mainly recommended for promotional and interior use. Their expiry date is one year. Typical for them is shrinkage, peeling, and splitting
The shrinkage in the monomeric vinyl makes an application in 3D surfaces difficult and even impossible. Calendered monomeric film can not be stretched but even if it is, very quickly restore its original shape and start to peel.
Calendered polymeric vinyl has a much longer life and with proper application, you can get a warranty of up to 5 years, and the durability extended to 10 years. Typical applications are all flat, illuminated, and non-illuminated signs, even car wrap, but only applied on flat details without 3D curves.
3M calendered polymers are hardened by temperature shock. The vinyl passes through several cold and hot ovens. This thermal shock shrinks the vinyl at the factory. Thus, the greatest shrinkage is already a fact and the effect of shrinking is minimal.
For this reason, calendered 3M polymeric vinyl performs successfully on deep 3D curves. Many applicators say that the 3M IJ40 and 3M Scotchcal 50 series work better compared to the cast films of some of the more budget-competing brands.
2.2 Cast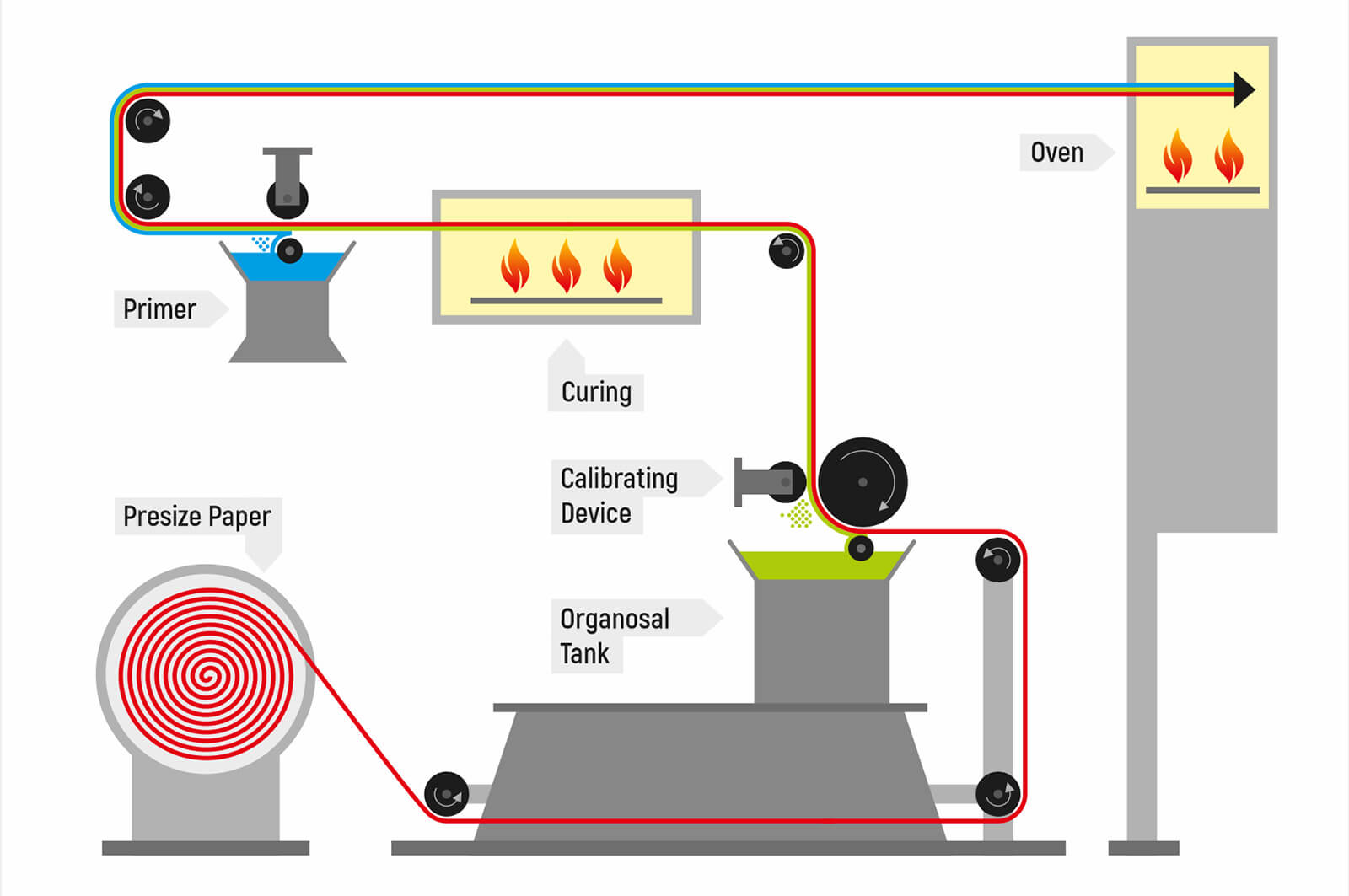 Cast technology is the key to achieving the ultimate quality. With this technology, PVC is poured into a liquid form on paper, moving at high speed. The combination of paper and liquid PVC polymerizes. At the exit of the oven, the paper is separated from the foil and it goes for additional application of adhesive and silicone release liner. This technology is extremely complex and precise and few companies can afford to produce such materials. The created high quality is the reason for the higher price.
2.2.1 Advantages of cast technology
With cast technology, a thin vinyl is obtained – 35 – 50 microns. It does not contain internal tension, is flexible, and has no shrinkage. Cast vinyl is the only possible PVC vinyl for cover deep 3D surfaces. Due to the lack of shrinkage, it can be stretched up to 150% of its size without creating internal effort (physical memory) in the material.
2.2.2 The standard for car wrapping
All over the world, cast technology is a standard for a complete wrap of all types of vehicles – cars, trucks, buses, trains, even bicycles. An obligatory condition for a quality product is the use of respective cast laminates.
Recently become popular full car wrapping: motorcycles, etc. It had been manufactured vinyl with unique colors, textures, and even imitation of chrome (silver). This would not have been possible without cast technology.
3. Adhesive types
Adhesives can be separated into two types – reactive and nonreactive. This means if the adhesive needs some time to hardеn.
3.1 Acrylic
Acrylic adhesives are two types – solvent or water-based. Acrylic adhesives work quickly and have high strength, thanks to the cross-links that are formed during the polymerization of acrylic acid. From the variations of the chemical composition, different types of acrylic adhesive with certain properties are created, according to the desired application.
They exist in both liquid and pasty form and the form of a strip.
It is often made of two components. The first is an initiator – a material applied to one part and an adhesive agent – applied to the other part. Both are pressed until the curing process is complete. This type of adhesive is known as pressure-sensitive.
Pressure-sensitive solvent acrylic adhesives guarantee durability in long-term applications. They provide efficiency, including better resistance to heat, chemicals, and water, compared to almost all other categories of adhesives.
3.2 Solvent
The solvent adhesive is a non-reactive, drying adhesive that is created from various ingredients – most often polymers. It is also cheaper than acrylic.
Cheap adhesives in combination with cheap paper start a chemical reaction. This means that the product is unstable, has no plasticity, and is difficult to peel off from the protective paper. This makes it extremely difficult to peel off small letters and apply them, especially if has passed some time since they were cut. Also, it has a short shelf life and an unsatisfactory expiry date.
The monomeric vinyl has a lower price because contains a semi-liquid solvent adhesive. When the PVC vinyl shrinks, the solvent adhesive remains at the original size of the sticker. In addition to being unpleasant to look at, these marks are sticky and retain dirt that is sometimes almost impossible to clean.
The effectiveness of solvent-based adhesives is largely determined by the polymer system in the formula. The choice of type adhesive depends on the specifics of the materials to be glued and the required desired resistance to temperature and other weather conditions. Most solvent-based adhesives contain flammable solvents that require special safety precautions. Besides, many organic solvent adhesives are banned due to concerns about polluting the environment with harmful emissions.
After the adhesive is applied, it evaporates quickly, which leads to an increase in the viscosity – the internal tension of the adhesive layer. After gluing, it is necessary to wait for the so-called set time, which increases the initial strength of the adhesive bond.
3.3 Removable and Permanent adhesives
Permanent adhesive is a strong bonding component that ensures stable adhesion. Once glued, the connection between the surface and the adhesive layer is made quickly and the strength is already a fact. If you want to remove it, after peeling off the glued material, traces of glue remain, which are often difficult to clean.
By definition of 3M, a removable adhesive that allows easy peeling means that it provides the ability to be removed even by a non-professional leaving no more than 10% remains.
In many cases, customers need a quick and clean removal of the film after a while. This creates the removable adhesive. It guarantees easy and quick removal even without previous experience.
There is a misconception that removable adhesives are weaker than permanent ones. The bond is strongest between the PVC coating and the adhesive layer and weaker between the adhesive layer and the surface. But this fact does not make its bonding strength less than that of permanent adhesive.
Removable adhesives have a shelf life. It determines the duration of their properties. For 3M the standard is 2 years after installation.
3.4 Adhesive layer technologies
3M has created two indisputably innovative technologies for the application of self-adhesive film with pressure-sensitive adhesive. The Comply system consists of thousands of miniature channels, forming a grid, through which the air is removed with soft pressure on the surface. With Controltac technology, thanks to the millions of scattered glass microspheres in the adhesive layer, the initial contact of the vinyl with the surface are unlimited.
This allows multiple repositioning of the vinyl during installation. When the final vision is archived it is time for so-called post-heating – "baking" of the already installed vinyl.
Another very useful technique is the gray non-transparent adhesive. The adhesive layer is produced in a dark gray color and this allows the foil to stand out without the color of the base of the surface being transparent.
4. Silicone release liner
The silicone release liner is a material with a silicone coating. It is used to protect the adhesive of the foil.
The silicone release liner is applied during the production process. It is used to prevent premature sticking to the sticky surface. Release liners are available in a variety of colors and materials, from paper, plastic, without or with a stamp under the cover or on the back of the lining.
An unknown fact is that "Bubble-free" and "Comply" technologies are obtained due to the silicone release liner. There is an embossed mesh in it and when the siliconized paper is applied to the vinyl, rollers press them and in this way, the embossed mesh creates the channels for the air.
5. Applications and conclusions
All vinyl look almost identical. This makes most people decide what type of material to use based on price. Knowing the technologies and product materials, we can make the right decisions when choosing a film, according to the various possible applications.
5.1 Promotional applications
All applications with a durability of up to 6 months on flat surfaces with high surface energy (glass, chipboard, aluminum, etc.) can be made with the cheapest possible monomeric films. Of course, you should keep in mind that in very cold or hot terms it is possible to peel off the corners or other parts of the vinyl. This mainly depends on the manufacturer and the quality of the produced film.
5.2 Medium-term applications on flat surfaces
In these cases, the use of medium or high-grade polymeric film is recommended, depending on the required durability.
5.3 Long-term applications on flat surfaces
It is mandatory to use cast vinyl for all applications that have an estimated life of more than 10 years. The used technology and the quality of the products guarantee longer exploitation.
5.4 Automotive applications / Vehicle wraps
The use of cast vinyl with cast laminate is mandatory. Compromises can be made only when installing stickers on flat parts and the expected durability is not longer than 5-6 years. Can be used 3M's high class calendered polymeric film. In this case, again, all printed stickers must have the appropriate laminate.
5.5 Shelf life
Manufacturers are obliged to write the expiry date on each product. After this period, under certain circumstances, each vinyl may lose the properties of its adhesive layer, shrink and/or start a reaction between the silicone paper and the glue. The qualities of the film will be not those declared by the manufacturer.