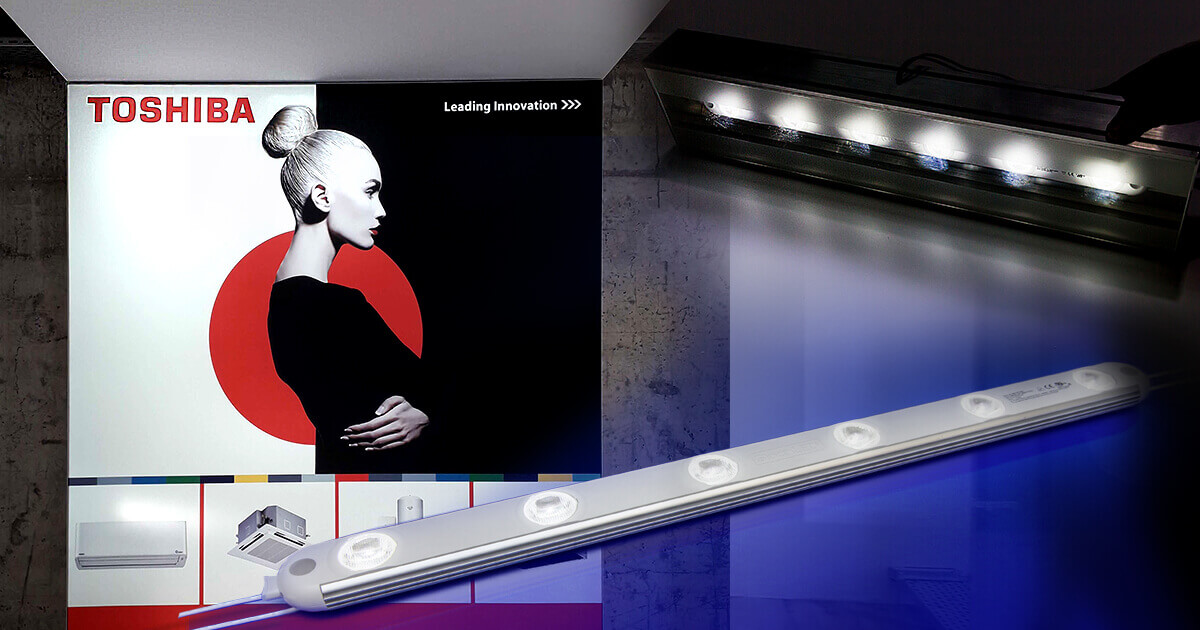 The current year is most likely the most technological so far. We are rapidly aiming to reach a world without borders and limitations. Toshiba, without a doubt, is a part of this movement! Founded more than 140 years ago in the land of the rising sun. Their slogan "leading innovations" is relatable not only for their production, but also for their design. To reach this effect in their work environment, Toshiba Bulgaria chose advertising agency Artzone. They specialize in outdoor and indoor sign making and are responsible for the branding of many offices.
Attractive art installation for Toshiba
For the making of this project Artzone singled out Partners Ltd for providing high-quality materials for the creation of the advertising installment.
They chose the aluminum textile systems, that assure additional strength and durability of the advertising. Other than that, the sign systems add more elegance. Their biggest advantage is the fact that they save time, mounting literally takes minutes.
The key feature of the installation are the best LED modules on the market, those manufactured by SloanLED. For over half a century, the North American company designs innovative high-quality products.
Their LED modules provide not only long-lasting, but also bright illumination of the advertising message or brand logo. For illuminating the aluminum textile system, Artzone used three SloanLED PosterBox 3 Long modules. They generate long range illumination and are constructed with lenses with a very narrow viewing angle.

Advertising agency Artzone
We are very pleased with the innovative products that we had the opportunity to work with! The mounting of the advertising installation happened very fast and easy.
Bright illumination with a 10 year warranty
SloanLED are one of the very few companies that offer 10 year Product & Labor Warranty for a large number of their products. That proves not only their quality, but also the incredible solutions that the company offers.