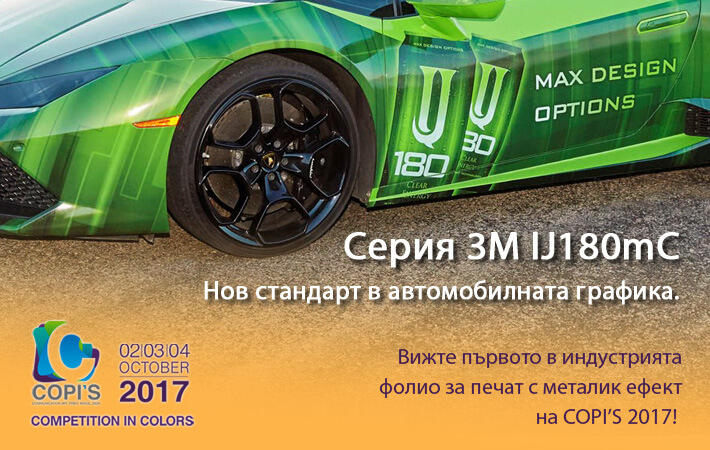 Competition in colors at COPI'S 2017
For a sixth year in a row we have the opportunity to be a part of the print film and advertisement communication's fair COPI'S. This year COPI'S 2017 is under the slogan " Competition in colors". The event will take place in Inter Expo Center, Sofia.
Welcome to our stall (hall 2, stall C5) at COPI'S 2017 from the 2nd to the 4th of October 2017.
COPI'S 2017: we present you the new cast film 3M IJ180mC for amazing graphics
3M IJ180mC – high class cast print film, entirely intended for vehicle branding. It can satisfy even the most pretentious clients. Suitable for wrapping cars, motors, jets, and other vehicles, including application of difficult elements such as – plastics, car bumpers, car spoilers, and others.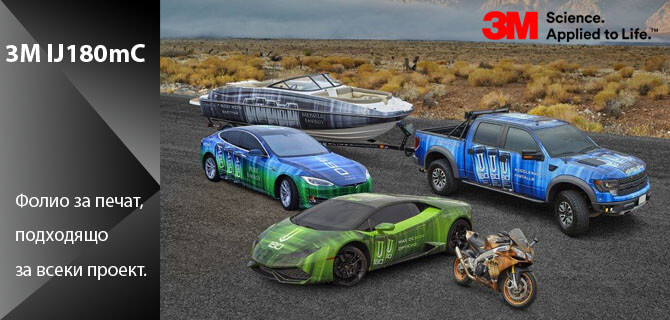 Because of its optimized initial tack and repositionability, IJ180mC makes film installation extremely easy. Comply™ adhesive has micro air release channels. Thus the film is completely smooth on the applicated surface.
" Impress all of your clients using the first print film with metallic effect – IJ180mC-120 " – Partners Ltd.
Take a closer look to the first print metallic film 3M IJ180mC giving a stunning effect to your vehicle.
Characteristics of IJ180mC-120:
advanced Comply™ adhesive with invisible micro channels
fast and easy installation
high levels of stretchability – up to 130%, no primer
See offer
IJ180mC-10 – white cast print film, offering high quality images that can easily transform any vehicle.
IJ180mC-114 – transparent cast print film that allows the initial color of the vehicle to be a part of its new vision.
IJ180mC-10LSE – intended for low energy surfaces (LSE), such as car spoilers, car bumpers, and others.
IJ180mC-10SLS – film, designed to bond stainless steel surfaces, such as – tankers (cisterns), refrigerator trucks, and food transportation trucks.
We look forward to meet you at our stall at COPI'S 2017, where you will have the
chance to see all 3M products: double-sided films and adhesives, car wrap films, architectural films, window films, and many others. We will also present the last generation LED modules from the leading company in the industry – G.O.Q. LED and SloanLED.