Description
Spike for tablets - a laser device for measuring objects from a distance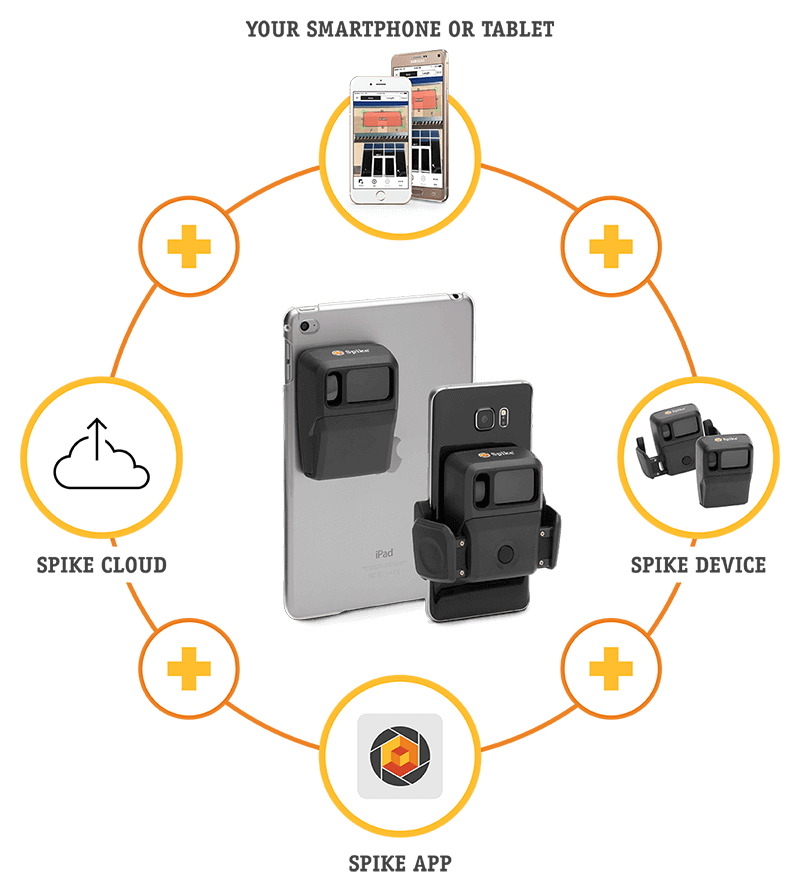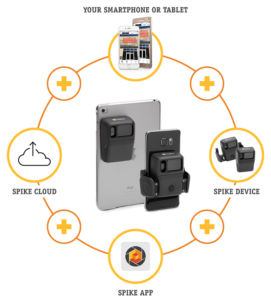 The Spike for tablets model comes with high-strength bonding tape for attaching it to tablet case.
Spike is smart laser device for measuring objects from a safe distance (from 2 to 200 meters) for professional use. The Spike laser device pairs with your tablets (smartphones) via Bluetooth, working together with its camera, GPS, compass, and Internet connection. The device can be used with both Apple iOS and Google Android tablets and smartphones.
Spike for tablets / smartphones allows you easy and fast measuring and locating an object only by taking a photo with your smartphone or tablet, paired with Spike. From that photo, you can get real-time measurements such as areas, elevations, GPS location and distances between two points. The convenience to use Spike device save valuable time and money, especially for professionals which daily work is closely related with measuring objects.
With Spike you can measure hard-to-reach objects without using additional equipment, labor or tools. All it takes is one person to capture all the measurements by taking photos with his tablet / smartphone connected with Spike. And all these from a safe location and distance.
See Spike device for smartphones
Spike laser device is offered in three mounting options, including model for smartphones. It has the same capabilities as the Spike for tablets.
GO TO PRODUCT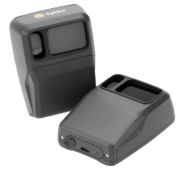 Photos can be measured using the Spike mobile app or Spike Cloud, so you can access the photos at any time you want to remeasure. This way there is no need to return to the location to measure again. Spike Cloud allows you to view, measure, share and export Spike photos and measurements. You can use all these functionalities of the Cloud from your computer or laptop too. Measurements are stored with the photo and can be shared as a PDF, JPG, KMZ, HTML (only for Android devices), or Spike File (XML). Photo measurements can be used and edited in engineering, design and architecture, construction, and GIS software programs.
Spike for tablets (smartphones) is a smart laser measurement solution for all types of industries and professional use as Sign and Graphics, Architecture, GIS, Windows and door production, Vehicle Wrap Graphic measurements.
Video: Take measurements of Sign and Graphics with Spike - Gordon Sign experience
Video: How to align the Spike laser with the camera of your Smartphone or Tablet?
brings new functionality to your smartphone or table
for measuring objects from a distance between 2-200 meters
capture real-time measurements by taking photo directly with your smartphone or tablet
easy and convenient to use laser measurement device
no need additional equipment, labor or tools
pairs with your smartphone / tablet via Bluetooth
Spike specifications - a laser measurement device
| Category | Details |
| --- | --- |
| Device and OS | Apple iOS and Google Android smartphones and tablets. See here the list of recommended devices (smartphones and tablets). |
| Connectivity | BLUETOOTH 4.0 Low Energy |
| Range | Eye safe laser supports distance from 2 to 200 meters |
| Accuracy | Laser distance accuracy is ± 5cm; Photo Measure accuracy is ± 1%; Point-to-Point Measurement accuracy is ± 3% |
| Units | Feet + Inches, Inches, Meters, Centimeters |
| Battery | Internal Li-ion Battery. Battery life is 4 hours of continuous use. |
| Size (h x w x d) | 82 mm x 72 mm x 42 mm |
| Weight | 80 grams |
| Output Formats | PDF, JPG, Scaled Image, Spike File (XML), KMZ, URL |
Documents
See User Manual and Icon Guide for Spike device.