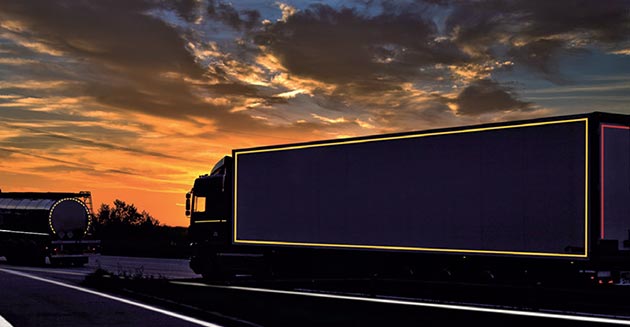 What is ECE104 Reglament?
ECE104 is a regulation that establishes guidelines for the use of reflective safety markings on heavy goods vehicles (HGVs) operating throughout Europe.
Since July 2011, all newly registered HGVs over 7.5 tonnes and trailers over 3.5 tonnes operating in the UK, are required by law to be fitted with homologated retro-reflective markings. These must clearly outline the rear and sides of the vehicle to make it visible for up to 1000 meters in low light conditions.
ECE104 Regulation specifies the standard for the reflective materials used and where and how it must be positioned on the vehicle or trailer.
What are the requirements for conspicuity tapes for trucks according to ECE104 Reglament?
Conspicuity tapes for trucks (and other heavy goods vehicles) required under ECE104 must carry the "E-mark" to show that the tape has met the minimum requirements of the regulation. The markings need to be between 50mm to 60mm.
Conspicuity markings must carry the E-mark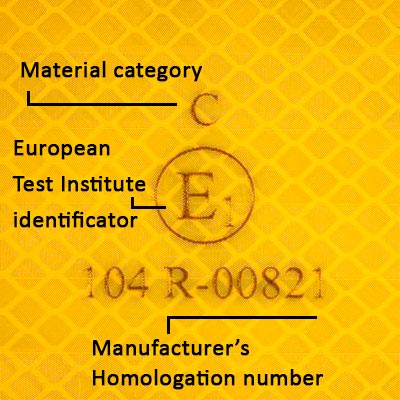 Refletice tape width must be between 50 and 60 mm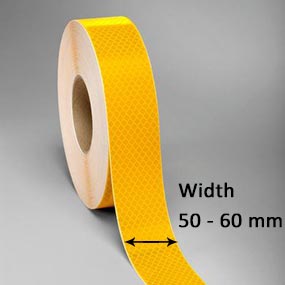 What colour markings can be used?
Position on vehicle


Colours

Front

White

Sides

Yellow

or white

Rear

Red

or

yellow
Vehicle Safety Markings requirements for ECE104 Reglament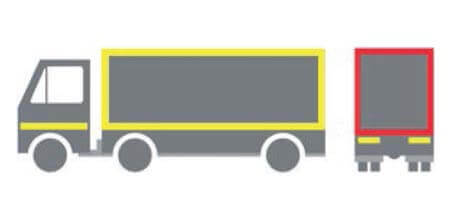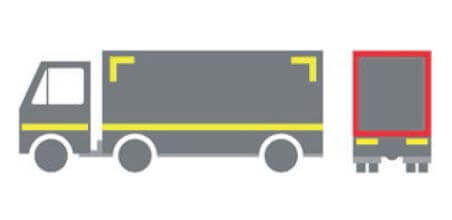 Rear of the vehicle
A complete contour line marking (box) needs to be applied if the rear of the vehicle is wider than 2100 mm
The conspicuity tapes for trucks should be as close as practicable to the edge of the vehicle and should equate to at least 80% of the overall width of the vehicle
Side of the vehicle
There are two options to choose from, a complete contour line marking (box) or a partial contour marking (corner ticks)
Partial contour markings are the minimum requirement of ECE104 Reglament.
The conspicuity tapes (markings) shall equate to at least 80% of:
A. The length of the vehicle (excluding the cab)
B. The length of the trailer (excluding the drawbar)
The length of the upper corner marking tape must be a minimum of 250 mm in each direction
Why choose 3M Conspicuity Tapes for trucks?
Excellent reflectivity
Endures after outdoor exposure and frequent washing and cleaning
Daytime appearance – bright, vibrant colours
Ease of application
Excellent adhesion to vehicles
High quality, durable, all plastic construction – not susceptible to corrosion
3M Conspicuity Tapes approved by ECE104 Reglament
3M™ Diamond Grade™ Vehicle Marking Tape Series 983
For application on rigid-sided vehicles
Aluminium, stainless steel, automotive paint
8 year warranty
White, yellow and red colors
Clear, pressure sensitive adhesive
Prismatic construction
Roll size 55mm x 50m
ECE104 compliant & E-mark (104 R – 00821)
Application temperature (10°C – 30°C)
Typical coefficient of Retroreflection, RA (cd/lux/m2)
(white- 800; yellow – 645; red – 160)
3M™ Diamond Grade™ Vehicle Marking Tape Series 983S
Segmented tanker stickers for application on rigid-sided vehicles
Aluminium, stainless steel, automotive paint
8 year warranty
White, yellow and red colors
Clear, pressure sensitive adhesive
Segmented prismatic construction
Roll size 50mm x 50m
ECE104 compliant & E-mark (104 R – 00821)
Application temperature (10°C – 30°C)
ypical coefficient of Retroreflection, RA (cd/lux/m2)
(white – 800; yellow – 645; red – 160)
3M™ Vehicle Marking Tape Series 943
For application on rigid-sided vehicles
Aluminium, stainless steel, automotive paint
5 year warranty
White, yellow and red colors
Clear, pressure sensitive adhesive
Metalised construction
Roll size 51mm x 50m
ECE104 compliant & E-mark (104 R – 003994)
Application temperature (10°C – 30°C)
3M™ Diamond Grade™ Vehicle Marking Tape Series 997
For application on curtain-sided vehicles
3M approved coated curtains, not older than 6 months
3 year warranty
White, yellow and red colors
Clear, pressure sensitive adhesive
Flexible, prismatic construction
Roll size 52mm x 50m
ECE104 compliant & E-mark (104 R – 003189)
Application temperature (10°C – 30°C)
3M™ Diamond Grade™ Vehicle Marking Tape Series 997S
Segmented markings for application on curtain-sided vehicles
3M approved coated curtains, not older than 6 months
3 year warranty
White, yellow and red colors
Clear, pressure sensitive adhesive
Flexible, segmented prismatic construction
Roll size 51mm x 50m
ECE104 compliant & E-mark (104 R – 003189)
Application temperature (10°C – 30°C)