Description
Why 3M Whiteboard Film?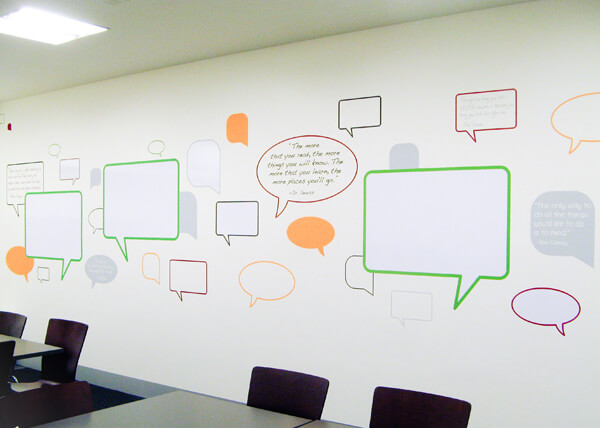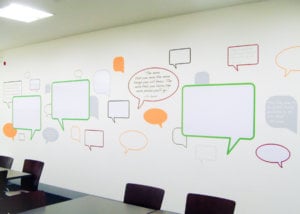 With the Whiteboard Film by 3M you can transform your walls into creative writing areas. They can be different in design and in size. Compared to the standard whiteboards, that are commonly used in conference halls and schools, the 3M Whiteboard Film saves your time (fast installation), does not take up any of your space and does not require additional maintenance. The big advantage of this film is in its impressive look. It adds elegance to the installed areas and it can satisfy even the most demanding customers.
3M Whiteboard WH-111 has smooth and gloss surface that ensures reliability and long-term durability. This film entirely eliminates the marker stains that are very typical for the standard whiteboard. Even after a long-term intensive use, the film remains white and spotless.
Besides, there is no need for any type of additional maintenance of the surfaces where the film has been installed. You do not need to dust it off or take any specific care of it. These significant advantages over the standard whiteboard, make the 3M Whiteboard Film one of the most practical and economical alternatives of the whiteboard.
Other solutions of the whiteboard film – magnetic and projection film

The 3M Whiteboard Film WH-111 is part of the 3M DI-NOC architectural film series for interior decorations. This series offers additional whiteboard solutions – 3M Projection Screen Whiteboard PWF-500 and 3M Projection Screen Whiteboard Film PWF-500MG.
PWF-500 has the same specifications as the 3M WH-111, but it can be used as a projection board. The PWF-500MG is also a whiteboard film and a projection film, but it can be used as a magnetic board.
Thanks to its practical nature, innovation, and easy use, the entire 3M Whiteboard Films series is widely used in many different fields.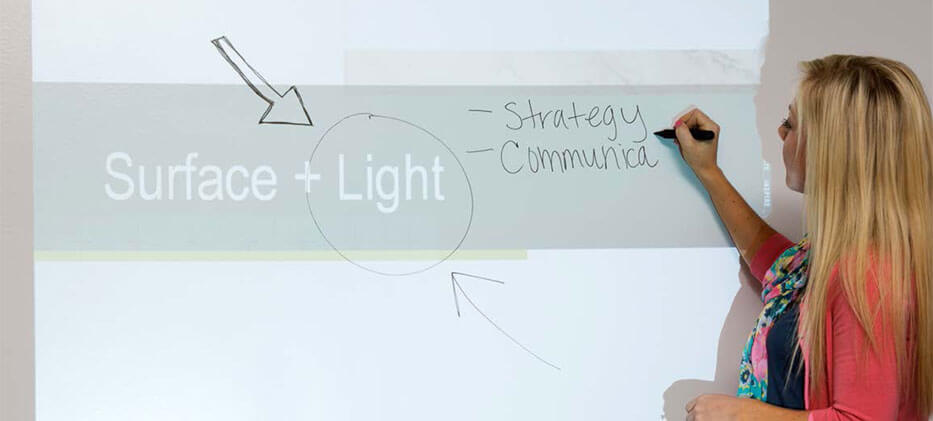 See the other whiteboard film solutions
Besides the standard whiteboard film, the series offers whiteboard projection and whiteboard magnetic film.
Applications of the whiteboard film
The whiteboard film can be applied not only in schools, kindergartens, and training centers. It is also suitable for hospitals, medical centers, conference halls, and offices. 3M Whiteboard Film can be applied over various surfaces, including glass. This makes it perfect for applications on glass partitions in offices, where the employees can have more privacy and the opportunity write all of their ideas. It can also be installed on desks, tables, doors, wardrobes, elevators, and many others.
Transform free spaces into idea clouds with 3M Whiteboard Film
Compared to the framed whiteboards, with 3M Whiteboard Film the ideas can be unlimited. Every wall, partition or even an entire room can be easily transformed into a whiteboard, giving you the opportunity to expand your ideas and imagination. The place where you can pour your ideas on is always available. With 3M Whiteboard Film, you do not need storage space or to dust off the board.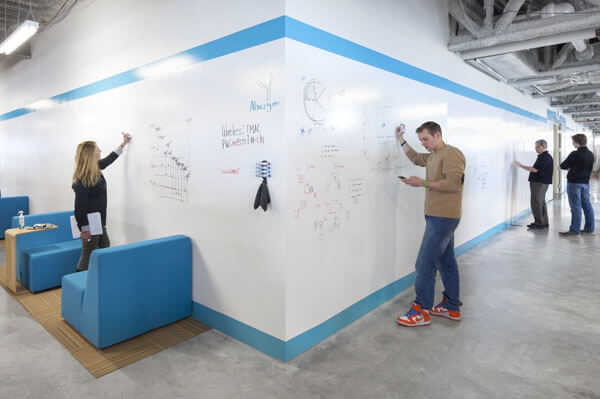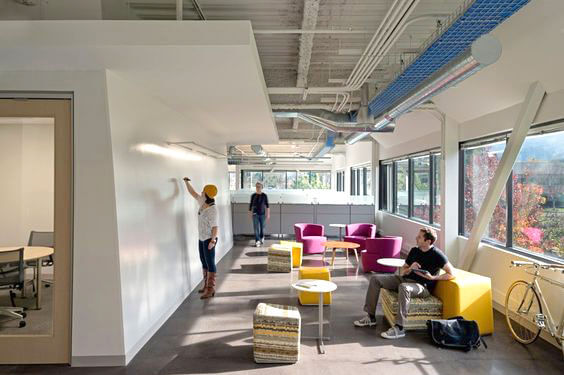 Besides everything mentioned so far, the film establishes the writing spots in a very attractive way. In combination with other 3M electrocut or print graphic films you can create attractive decorations, indicating the writing spot.
It is very often used in combination with the colors and designs of the 3M DI-NOC architectural films and the 3M Fasara Glass Finishes glass decoration films. The decorations that these combinations create guarantee attractive and stylish look of the interior.
This guarantees comfortable and pleasant work atmosphere. That is why many companies around the globe use the innovative whiteboard film series to decorate their offices. Few examples are international companies such as Spotify, Microsoft, Facebook, Mastercard, Flyber, etc. They have wrapped many of their office walls with 3M Whiteboard Film, turning them into a powerful generator of new and creative ideas.
Whiteboard film – a standard for the IT companies worldwide
For the IT engineering companies, the 3M Whiteboard Film has become a standard. With the help of the high quality architectural self-adhesive film 3M Whiteboard Film, they create more attractive and modern designs of their offices, creating spots where people can share their thoughts and ideas. There, the IT specialists feel more encouraged and eased in the idea sharing their thoughts. In reality, these spots are available to everyone to write and read information, plans, and schemes. This gives a new, modern look of the office and creates a more productive and pleasant work atmosphere.
for smooth surfaces
grey, pressure-sensitive adhesive
designed for indoor applications
3M Comply™ technology for easy and bubble-free installation
suitable for walls, doors, table tops, partitions, and others
Product bulletin and product brochure of 3M Whiteboard Architectural and Glass Finishes series.