Description

SloanLED BrightLINE LED Long - illumination for shallow, single-sided sign boxes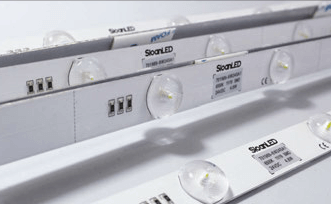 SloanLED BrightLINE delivers bright, uniform illumination and fast, easy installation in shallow, single-sided, fabric-face light boxes – creating vibrant, eyecatching retail displays, and bringing backlit graphics to life. Dry location indoor use only.
SloanLED has been a key manufacturer and supplier to the sign industry for over 20 years. Our high-efficiency, long-lasting solutions don't just light your signs; they represent significant energy cost reductions, maintenance cost savings, easy installation, and faster ROI. SloanLED BrightLINE's low-voltage 24 VDC system delivers exceptional efficiency and performance and surpasses expectations using up to 20% less power than common LED ribbon tape solutions. Significantly reduces installation time and production costs.
Sold in a set of 18 pcs.
Covers an area of 2.7 m2 with a depth of up to 6 cm.
Ideal for single-sided, fabric-face light boxes
Features prism lens technology for bright, even illumination.
1.2 – 4.7″ (30 – 120 mm) deep
Fast, easy installation with no soldering or plugging.
5 years warranty
Product bulletin, Install guide, and Tech Data for SloanLED BrightLINE.