Description

G.O.Q. 3 LED 2835 White Shallow for illuminated signage
High quality, white shallow G.O.Q. LED modules, made in Korea.
With Samsung 2835 chip. G.O.Q. 3 LED 2835 provides bright and effective illumination for all kinds of sings and narrow channel letters, with viewing angle 160°. G.O.Q. LED modules and lamps are designed for humid and waterproof applications. IP68 waterproof protection and a 3-years warranty.
Maximum 50 LED modules per circuit.
for signs and narrow channel letters
with Samsung 2835 chip
viewing angle – 160°
waterproof protection – IP68
bright and effective illumination
warranty- 3 year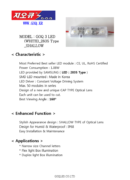 Product Bulletin with technical characteristics of led modules G.O.Q. 3 LED 2835 White Shallow.