Description

G.O.Q. 3 LED 2835 Spectrum White - extremely powerful LED modules
High quality G.O.Q. LED modules with Samsung 2835 chip, made in Korea.
G.O.Q. 3 LED 2835 Spectrum White 6500K/10000K gives you effective illumination and high durability. These modules are placed at a distance of 16 cm from one another. With a viewing angle of 180°. G.O.Q. LED modules and lamps provide outstanding illumination and allow you to illuminate big installations with a lesser number of modules. Designed for humid and waterproof applications, with protection IP68. Suitable for signs, channel letters, and others.
Maximum 50 LED modules per circuit.
for signs and channel letters
with Samsung 2835 chip
viewing angle – 180°
high level of efficiency
waterproof protection – IP68
warranty – 3 years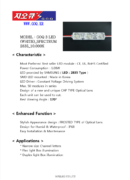 Product Bulletin with technical characteristics of led modules G.O.Q. 3 LED 2835 Spectrum White.