Description
3M 7959 MPL – Double sided adhesive sheets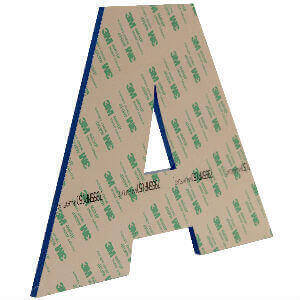 3M 7959 MPL is a dry acrylic adhesive 200MP formed as sheets with dimensions of 61cm (width)/ 91.4cm (height). Bond to high surface energy materials and provides long-term durability for bonded metals, plastics, polyester, glass, polycarbonate, ABS and so on. 3M double-sided adhesive sheets have no expansion during temperature changes. 3M Membrane Spacer 7959MP is designed for manufacturing of flexible tactile keyboards and electronic displays. It is because 3M 7959MP has a fixed adhesive thickness.
Double-sided sheets 7959 MP have a polyester film carrier that is excellent dielectric. It is moisture resistant so no folds are guaranteed. They are perfect for bonding electronic displays and mobile phone displays.
Using 3M double-sided sheets (membrane switch spacers), you can quickly make each product become self-adhesive. It is very convenient for customers. The thickness of bonding across the whole width of the materials is guaranteed. Thus the products do not change their appearance and their bond strength.
Bonds a wide range of materials:
plastics
glass
metal
wood
polyester
ABS
polycarbonate
others
Pressure resistance
High temperature resistance
UV resistance
Does not fold from water
Clear adhesive with no impurities
Solvent resistance
Used as a dielectric
Before bonding use isopropyl alcohol mixture to clean the surfaces. After that let them to dry out. Bond at temperatures in range of 21°C to 38°C to have good adhesion. It is not recommended to bond at temperatures under 10°C. When you work with chemicals, take precautions.