Description
Prestige 70 - high quality sun control window film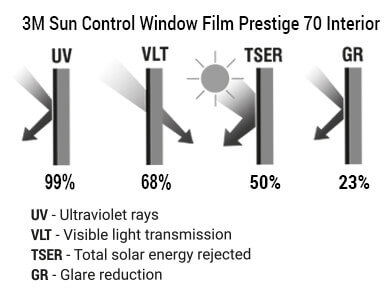 High protection Sun Control Window Films by 3M.
Sun Control Films reject a high percentage of the solar energy which reduces the energy consumption making them more efficient. In the meantime they provide great visibility, reduce the glare on TV sets and computer screens. 3M's innovative technology guarantees high reliability of the film's color during time.
The 3M Prestige Window Films series are high quality, absolutely transparent window films. Designed with 42 nano-polyester layered system, with transparent carbon that absorbs the light and energy.
Thanks to its multi-layered structure and innovative technology, this series provides effective sun, UV, and glare protection. Constructed with non-metalized technology for better mobile service.
UV rejection – 99%
glare reduction up to 23%
total solar energy rejected up to 50%
visible light transmission up to 68%
designed for interior use
suitable for flat surfaces
7 year warranty
Product bulletin of 3M Sun Control Window Film 70.