Description
3M Night Vision 15 - high quality reflective film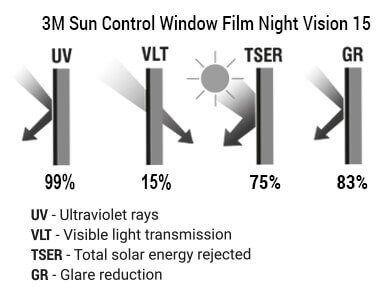 Reflective sun control window film.
3M Sun Control Night Vision film is designed for windows and glass facades. 3M Night Vision Window Films are unique because they create reflective effect from the outside while allowing optical clarity to be maintained on the inside.
3M's innovative technology guarantees high reliability of the film's color during a long period of time. It blocks the visibility from the outside and provides optical clarity from the inside even during night time.
UV rejection – 99%
glare reduction up to 83%
total solar energy rejected up to 75%
visible light transmission up to 15%
acrylic adhesive
designed for interior use
suitable for flat surfaces
Product bulletin and brochure of 3M Sun Control Window Film Night Vision 15.