Description
Create an art in your office or home!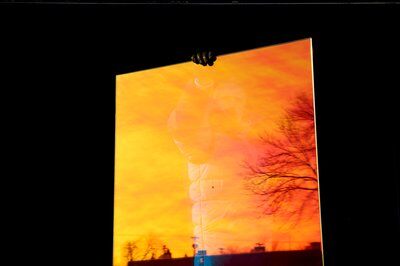 3M DICHROIC Glass Finishes DF Blaze is a multi-layer, polymeric, PVC-free film. Influenced by the color of the light, this transparent film provides a dichroic color effect, meaning it appears to change color when viewed at various angles. The "Blaze" films shift colors in the warm tones of cyan/blue/magenta in transmission and red/gold color regions of the spectrum in reflection. 3M Dichroic Glass Finish DF-PA Film offers a way to create a unique, ever-changing color for many interior and exterior building surfaces.
The PVC-free film has a clear, pressure-sensitive adhesive that can be applied to glass. The product has a silicone release liner, which protects the adhesive layer from premature adhesion.
3M Dichroic Glass Finishes DF film is designed to be applied to flat glass surfaces on-site. Blocks up to 97% of UV Lights and protects furniture from discoloration. A hard-coated surface layer helps resist scratching during normal use.
Application temperature: +12°C to +38°C
Create spectacular, dynamic warm tones
Fully transparent, color shifts when viewed from different angles
Wet application
Expected life: 10 years