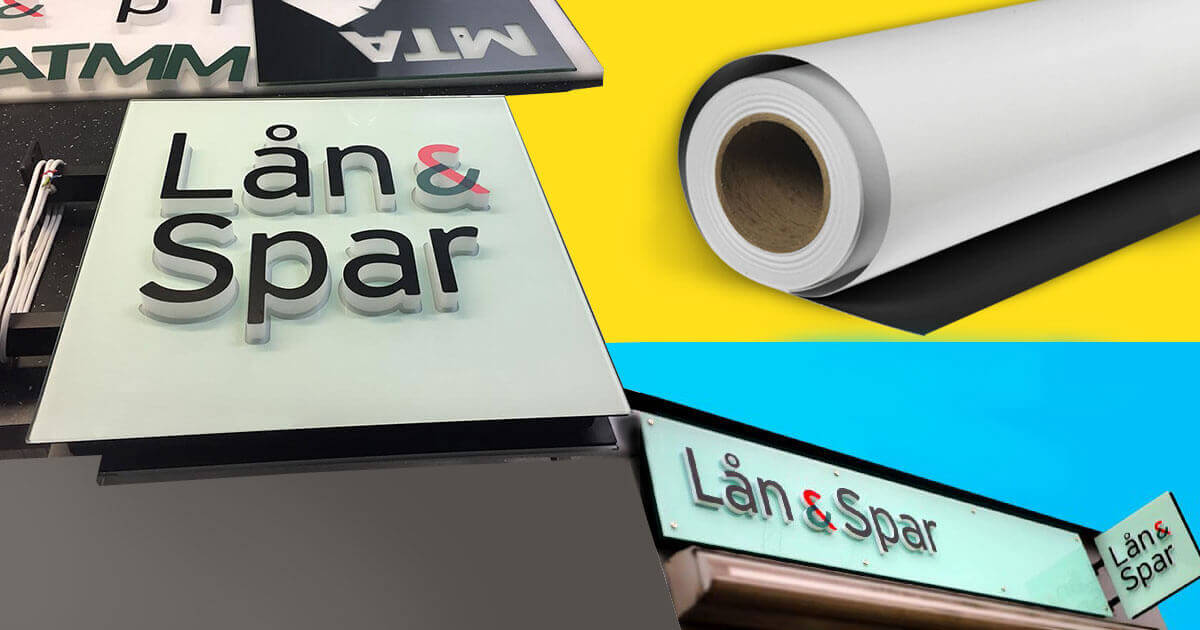 We are constantly surrounded by different illuminated signage. Due to the high competition and the repetition of advertising slogans and messages, companies try to find an unique way to present their service or business. The LED lighting, the used advertising materials, and the design are only one of the things that can make an advertising installation stand out.
The Land & Spar Bank branded with attractive signage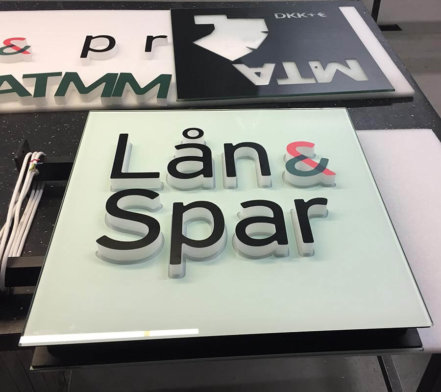 In relation with the re-branding of their branches, the Lan & Spar Bank singled out ASA 2000 Group for the design and production of their advertising installation. The company manufactured two attractive double-sided signs.
The logo is wrapped with black film, which initially cannot be illuminated. To solve this problem, from the advertising agency decided to use one of the innovative 3M Light Management Films. The front side of the channel letters is made from white plexiglas that was wrapped with black 3M 3635-22 Blockout Film. This combination creates a side-lit illumination effect, without spoiling the color identity of the advertising installation. Over the "&" sing they installed crystal clear 3M Scotchcal Clear View IJ8150 with print.
For the illumination of the sign, ASA 2000 chose the powerful LED modules – G.O.Q. 3 LED 2835 Shallow that provide bright and effective illumination.
Double-sided signs with black and white blockout film
To achieve even brighter illumination during night time, the transparent plexiglas was wrapped with blockout film. That is why the sign appears white and the black letters contrast perfectly.
From the other side the sign is with an opposite structure. The surface is black thanks to the unique features of the 3M 3655-20 Blockout Film. When being wrapped over transparent surfaces the plexiglas seems black. The letters Lam & Spar Bank are white in order to differentiate from the surface.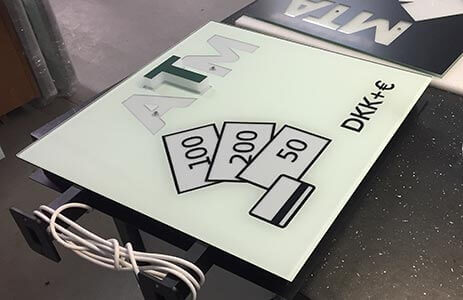 Here, the manufacturing technique is similar. The only exception is that the signs are not illuminated. The clear plexiglas was wrapped with blockout film with 3M Clear View IJ8150 with danish krones prints.
Designed like this, the advertising installations answer the high standards of the danish bank and assure the great look of their branches.